Recently, the 700t gantry cranes manufactured by our company for the steel tower construction project of Zhang Jinggao Yangtze River Bridge have successfully passed the type test, which has made Henan Kuangshan Crane once again help China's bridge construction following the Jianshou Bridge, Changtai Yangtze River Bridge, and Ma'anshan Yangtze River Public Railway Bridge.
As an important equipment supplier of the super project, Henan Kuangshan Crane has undertaken the production of 700t and other multiple (sets) crane boutique, all of which are used in the project's main steel tower and other bridge structure lifting, providing strong support for the construction of the Zhang Jinggao Yangtze River Bridge.
It is reported that the main tower of the bridge is 350 meters high, equivalent to the height of 125-storey building, is Zhang Jinggao Yangtze River Bridge two channel bridge four main towers in the main tower on the water, after completion will become the world's larger suspension bridge cable tower.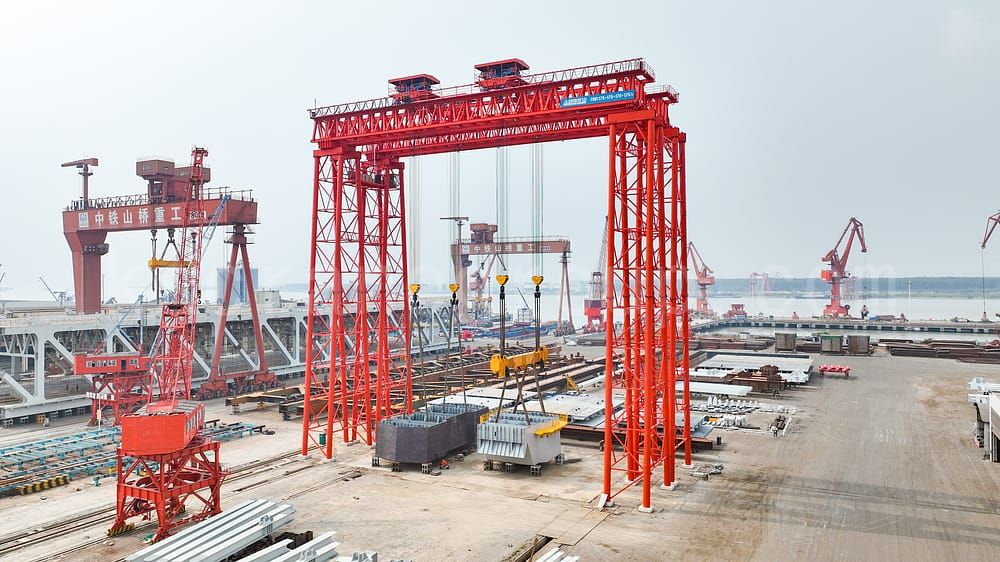 The project cranes through modern computer technology means, the use of domestic advanced configuration, new materials, new technology research and development production, is a lightweight, generalization, energy saving and environmental protection, high technology content of large tonnage, large span, large lifting height of the engineering gantry.
Technical Advantages
The whole vehicle adopts PLC+inverter communication control, which is more stable, safe and reliable.
Multiple lifting points synchronized control, automatic adjustment of balance, energy saving and high efficiency, improve lifting efficiency.
The whole vehicle adopts fiber optic communication, no signal interference, high degree of integration.
Equipped with automatic positioning system, more accurate, more efficient, to meet the high standard requirements of bridge construction.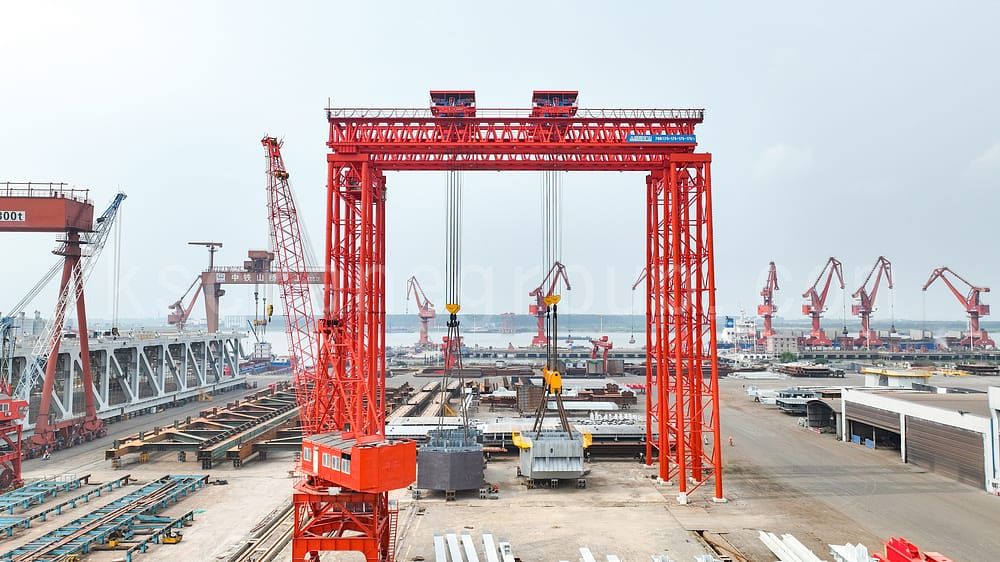 In recent years, Henan Kuangshan Crane has become the "preferred brand" for bridges, military industry, aerospace and other national major projects by virtue of its excellent product quality, stable and reliable operation performance and superior technical advantages. Henan Kuangshan Crane will always uphold the quality concept of "to do to do fine products", to develop more high-quality products, for the high-quality development of China's lifting industry to contribute more power.